​NSW Ports is committed to contributing to efficient, resilient and sustainable supply chains.
Our Empty Container Incentive Scheme (ECIS) was introduced in 2021 to encourage a better balance of imports and exports, in order to reduce empty container congestion in Sydney.  
Empty container congestion causes inefficiencies in movement and handling processes, substantial additional costs throughout the supply chain and safety issues with trucks queuing to access congested empty container parks.
For more information on the ECIS, please refer to our fact sheet by clicking here.
Since implementation of the ECIS, container load to discharge ratios at Port Botany have improved, thereby reducing the build-up of empty containers in Sydney.  
Load/Discharge Ratio - Performance to date
The Load/Discharge Ratio is calculated by reference to the number of containers loaded for export relative to the number of containers discharged for import. It is important to highlight that the ratio takes account of full and empty exports, to ensure that the scheme does not favour the export of empty containers ahead of full exports.
A ratio of 1.0 reflects a balanced supply chain, with an equivalent number of containers being imported and exported. A ratio of less than 1.0 can add pressure to the empty container storage system and create congestion.
The target Load/Discharge Ratio has been set at 0.98.  This figure recognises that a proportion of imported containers may be retired or repurposed, instead of being exported, and that there is a level of empty container storage available in Sydney.  
In the first six months after the introduction of the ECIS, in July 2021, the Load/Discharge Ratio for Port Botany was 0.99, compared with 0.95 for the same period in 2020.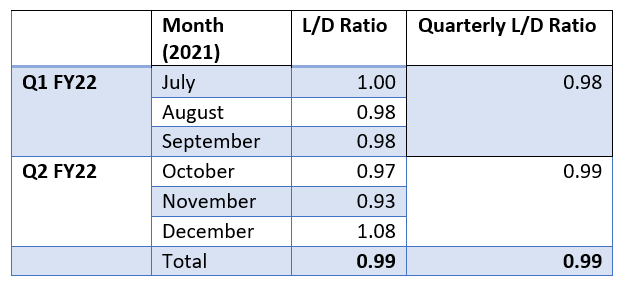 In Q1 FY22, approximately 40% of shipping lines received rebates for exceeding the target Load/Discharge ratio of 0.98. In Q2 FY22, 60% of shipping lines received rebates.  
At the same time, shipping lines handled increased volumes of export full containers. From July 2021 to December 2021, there was a 16.5% increase in the export of full containers, compared with the previous year. 
Further figures on Port Botany imports and exports are in our monthly trade reports, which are available by clicking here.  
​