Port Botany and Port Kembla are our key trade gateways to the world.
As an island nation, Port Botany and Port Kembla facilitate the daily trade of everyday goods, food and beverages, and critical supplies into New South Wales. They also connect our exporters with global marketplaces.  
The two ports are well connected by road and rail and are ready to support the state's growing import and export supply chain needs. Whether you are importing cargo bound for New South Wales or exporting goods to international customers, we can assist you with an efficient and sustainable pathway to market, through Port Botany or Port Kembla.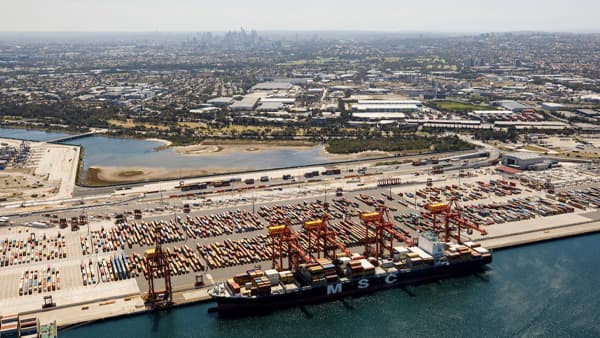 Exports: Direct links from paddock to port
Port Botany is the only container port in Australia with dedicated 'on-dock' rail at each of its three container terminals - meaning containers can be transported from paddock to port by rail and onto a ship without needing to be transferred onto a truck.
Located within Australia's largest population centre in Sydney – a key destination for all of the major shipping lines - the Port is centrally positioned with efficient road and rail connections to regional New South Wales. 
With more than 86% of regional container exports already travelling to Port Botany by rail, exporters enjoy reduced travel times, lower handling fees and increased supply chain efficiency. The end result is more competitive exports destined for international markets.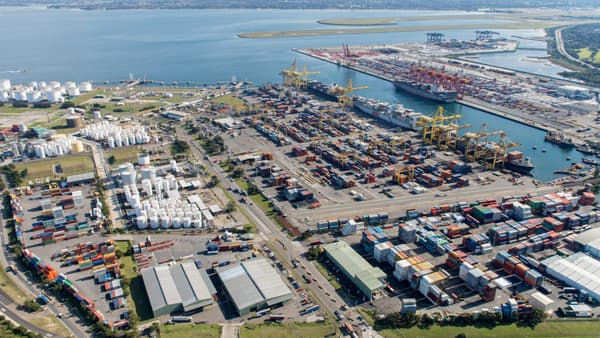 Imports: Located at the heart of NSW's container market
Port Botany's location and connectivity make it the primary container port in New South Wales, handling 99% of the State's container volume. 
Located in Sydney Centrally positioned in Sydney, within Australia's largest population centre, Port Botany is close to consumers and businesses. In fact - 80% of container imports travel no further than 40 kilometres from the port. 
Port Botany is also well connected by rail with a network of metropolitan intermodal terminals, and by road which reduces costs and provides more efficient freight services. Port Botany is also home to Australia's largest common user bulk liquid and gas facility.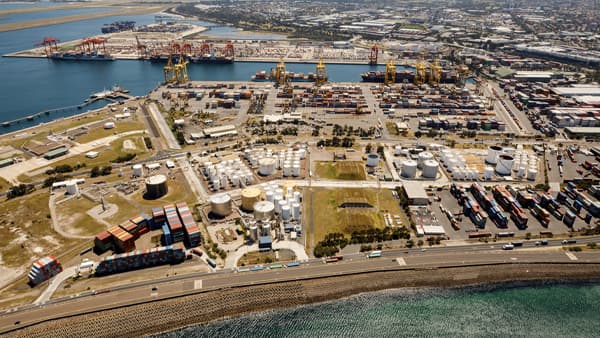 Shipping
3 dedicated container terminals, operated by independent stevedores. 

12 berths, each with a designated depth of at least -16 metres.

Current port infrastructure supports 15,000 TEU vessels today.

Short shipping channel that minimises pilotage and vessel transit time, providing greater efficiency and cost savings.

Deep and stable shipping channel and berths.

2 dedicated bulk liquid berths connected to pipelines.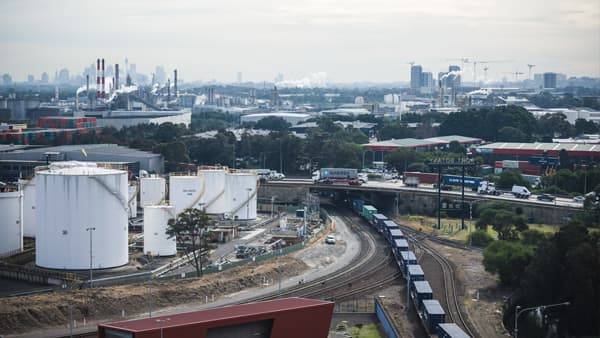 Rail & Road Connections
Directly connected via dedicated freight rail to a network of metropolitan intermodal terminals, including the Enfield Intermodal Logistics Centre, Moorebank Intermodal Terminal and Cooks River Intermodal Terminal, which service Greater Sydney's needs.

Paddock to port export capability

via dedicated and shared freight rail connections to regional NSW intermodal terminals in the south-west, west and north-west of New South Wales. 

The only port in Australia with on-dock rail at all three of its container terminals - with ability to handle trains up to 1,300 metres in length.

$190 million investment at Patrick Terminals to double Port Botany's existing on-dock rail capacity and deliver 33% faster turnaround times, decreased reliance on truck transportation and increased rail windows.

Capacity for the stack run of large volumes of empty containers via dedicated freight rail from Cooks River Intermodal Terminal.

Only Australian port to use a regulated truck booking and penalty system producing world class truck turnaround times and cost savings.
View how Port Botany is connected to international markets via shipping routes.
Did you know?
86% of regional container exports travel by rail to Port Botany.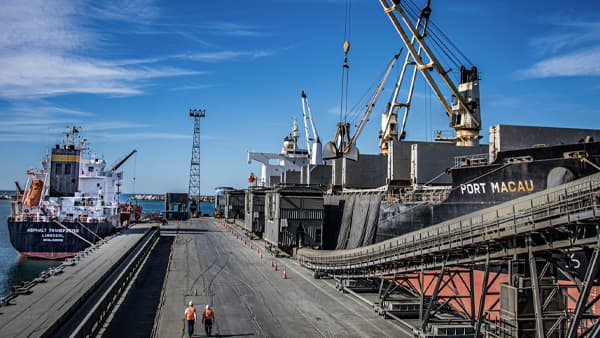 Exports: A key trade gateway for international markets
Port Kembla is home to the state's largest grain export terminal and second largest coal export terminal. Exporters benefit from efficient road and rail connections to Greater Sydney, the Illawarra and regional NSW. 
Port Kembla is close to major growth areas in Sydney's south-west, Greater Sydney and the new Western Sydney Aerotropolis.
It's distance from residential and other developments allows 24/7 operations.
Port Kembla is also approved by the NSW Government as NSW's next container port, once Port Botany reaches capacity.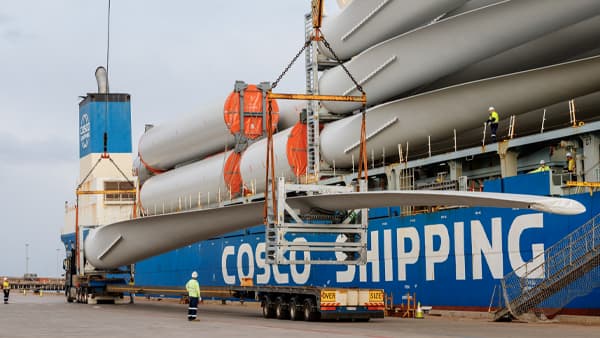 Imports: The port of growth for New South Wales
Port Kembla is home to New South Wales' largest motor vehicle import hub, is a leader in handling large project cargo and can accommodate a range of dry bulk, bulk liquid and general cargoes. The port is also able to handle small volumes of containerised cargo through its multi-purpose berths. 
Port Kembla is the next closest port, after Port Botany, to the greater Sydney population centre - just 67 kilometres to Sydney's south-western population area and 100 kilometres to Sydney's western population area, which is forecast to be one of three future cities in Greater Sydney.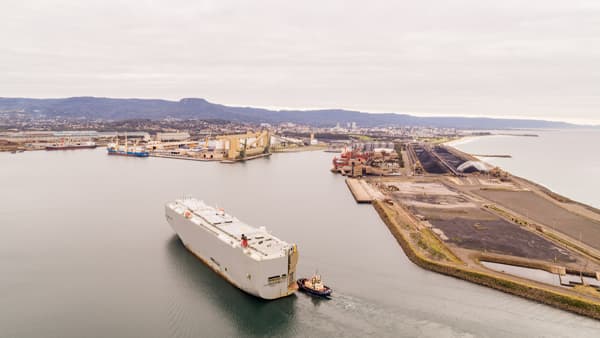 Shipping
6 major independently operated terminals, 18 berths. 

Operates within two precincts, the Inner Harbour and the Outer Harbour.

Multi-purpose facility equipped to handle large cargo vessels.

Purpose-built berth that can accommodate Roll-on, Roll off (RoRo) vessels up to 270 metres length overall. 

Three Liebherr harbour mobile shore cranes with capacity available to handle heavy lift cargoes.

Undercover storage capacity at dry bulk and break-bulk facilities.

High capacity, fully land backed ramp pad for heavy and oversize project cargo. 

Capsize vessel capacity at nominated berths.

Two dedicated bulk liquid berths owned and operated by NSW Ports.

Deep water shipping channel and berths requiring minimal dredging.

Short shipping channel that minimises vessel transit time providing greater efficiency.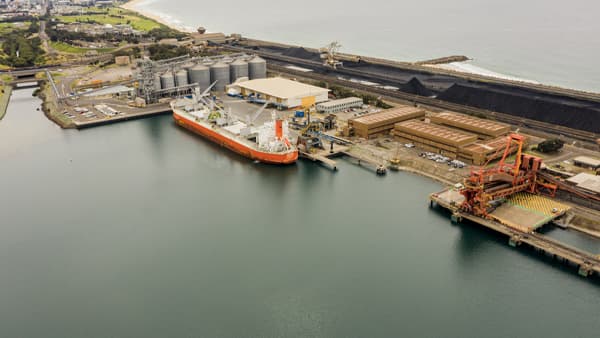 Rail & Road Connections
Efficient road and rail connections to regional NSW and metropolitan intermodal terminals to support agriculture, construction and mining.

Serviced by 3.5 kilometres of road network and 29 kilometres of rail network managed by NSW Ports, providing flexibility in port operations.

Located on high productivity vehicle routes, allowing maximum volume of product to be carried on each truck. 

Well serviced by significant road movement corridors connecting to the motorway network.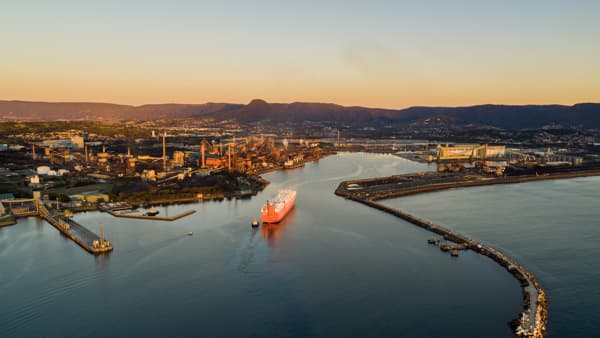 Learn more about Port Kembla here.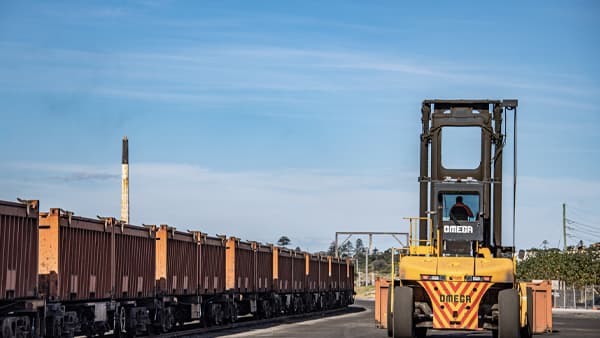 Contact our commercial team for more information about exporting from Port Kembla here.